Puddles the Pelican ft The Creatures From The Deep
In The Long Twilight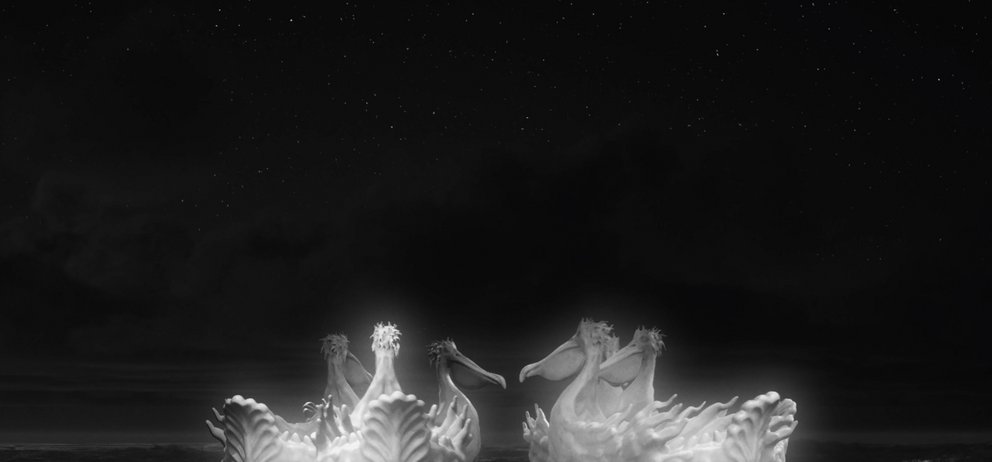 Accompanying the new revue by Berlin artist Jeremy Wade on 28 April at HAU1, HAU presents the music video for the final song of the soon to be released EP "Death On The Menu" on HAU4.
"In The Long Twilight", originally written by Ezra Green and adapted by Jeremy Wade and Pianist Quentin Tolimeri, is the story of a busted bird on a long journey. Bennett and Wade wrote a script for the video and video artist Adrian Ganea rose to the occasion with his grace and strangeness sculpting this 3D world by hand.
Puddles the Pelican and her six-piece band, The Creatures From The Deep embracing a politically charged form of queer science fiction to see through the violent present. Puddles, a survivor of the Deepwater Horizon Oil Spill, is a scrappy, one-eyed bird of a cabaret singer, coming to you live from a cruise ship floating through hell. Welcome to Minus Level 9, the classy shit hole nightclub in the basement of the ship where she and her band play one gut wrenching torch song after the next. She sings, squawks, moans and tells stories of love and loss. "Once a glorious bird, now covered in oil, which one of you bitches has a match!?!"
Date
Thu 20.4.2023, 17:00

HAU4
Cast
Concept, lead singer: Jeremy Wade / Piano, arrangement: Quentin Tolimieri / Drums: Liliana Zieniawa / Guitar: Eric Wong / Back-up vocals: Zoe Jamileh / Synthesizer: Philipp Kullen / Bass: Raj Prasad / Music production: Harald Stojan / Mixing & mastering: Bradley Hutchings / Script: Jeremy Wade, Darcey Bennett / Video: Adrian Ganea / Author of original poem: Ezra Green / Production: Darcey Bennett
Supported by: NATIONAL PERFORMANCE NETWORK – STEPPING OUT, funded by the Minister of State for Culture and Media within the framework of the initiative NEUSTART KULTUR. Assistance Program for Dance.