allapopp & Janne Kummer aka.alaska
The House of Monstress Intelligenzia
In cooperation with Luna Nane & Portrait XO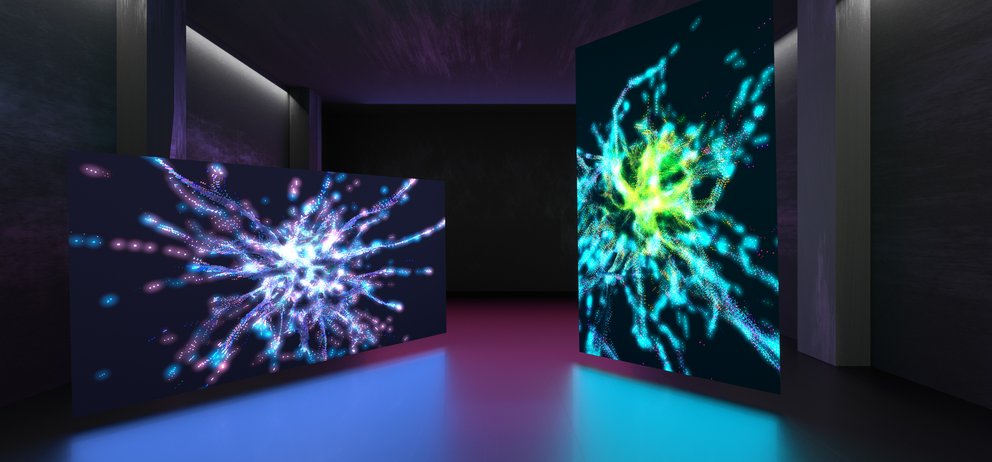 Artificial intelligence (AI) − the attempt to endow computers with intelligent behaviour and autonomous decision-making processes − has entered almost all areas of life, from cancer research to voice and face recognition in smartphones and virtual assistants like Amazon Alexa. This is very impressive and extremely useful in many areas, but the algorithms of AIs and their databases are produced by humans. And all humans have prejudices. So AI applications become racist, ableist, homophobic, FLINTA* (women, lesbian, intersex, non-binary, transgender, agender)- and xenophobic. The hybrid performance "The House of Monstress Intelligenzia" creates a digital space for collective reflection on how a glitchy, queer-feminist AI could function, look and feel. Can glitches, supposed errors in the system, serve as the basis for the data?
The project starts on the HAU Instagram channel. For a month, pictures and videos of the research will be shared here, everyone can join in. The Discord Channel of "The House of Monstress Intelligenzia" is now online – feel free to join! It is a space for knowledge exchange, information & skill sharing and community building – all about machine learning & Queer-, Data- and Glitch Feminism.

On March 4, an online lecture with allapopp & Janne Kummer aka.alaska and guests Buse Çetin, Emily Martinez and Luna Nane will present the results of research at HAU4.
Date
Thu 3.2.2022, 15:00

HAU4

Fri 4.3.2022, 20:00

Fri 4.3.2022, 20:00

HAU4
Cast
Concept & artistic direction, performance & production: allapopp, Janne Kummer aka.alaska / Creative direction, creative technologist, visual arts, performance: Luna Nane / Composition & sound: Portrait XO / Stage & costume design: Josa David Marx / Stage & costume assistant: Sina Kempe / Live editing & video: Janine Müller / Production management: Nora Liebetreu, Johanna Leifeld / With kind support by: Despace Berlin
Production: allapopp & Janne Kummer aka.alaska. Co-production: HAU Hebbel am Ufer, FFT Düsseldorf. Funded by: Fonds Darstellende Künste.